?>
| | | |
| --- | --- | --- |
| | Google Ads | |
There isn't content right now for this block.
Garden of War 2 Released!
Posted by Warstrider on Friday, March 29 @ 12:22:13 CDT (8536 reads)

Released! All the work, the testing, the bug fixes... all done. Garden of War 2 is now live to the world on Kongregate, and initial feedback has been awesome.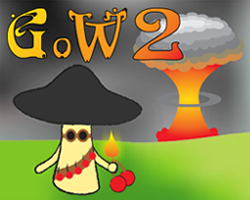 Link to the game

(comments? | Score: 5)

Garden of War 2 goes Beta!
Posted by Warstrider on Friday, November 16 @ 12:14:53 CST (18743 reads)

I am pleased to announce that Garden of War 2 has just entered beta! The original design team, the art team, and a group of volunteers GOW1 players will spend the next couple of months polishing it to a bright sheet. With any hope it will be ready to release to the general public early next hear.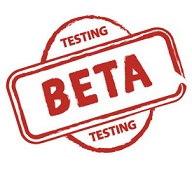 Link to the game

(comments? | Score: 0)

Halloween Chronicles: Volume 1
Posted by Warstrider on Monday, October 17 @ 12:25:36 CDT (6918 reads)

The Halloween Chronicles book has been finished! A big thank you to everyone who was involved in it's creation. If you didn't get a chance to see the book this weekend you can look at the preview below. If your interested in ordering a copy for yourself you can also do it there.





Forum Article (Members Only)
Link to Blurb

(comments? | Score: 0)


Posted by Warstrider on Saturday, June 18 @ 19:29:34 CDT (12943 reads)

Garden of War has had an amazing run on Kongregate! This week it passed the 100,000 hits mark, an amazing milestone. While the financial end has been far from successful, the popularity of the game is a huge releif. There have been many calls for a sequal, and many good ideas for enhancements.





(Read More... | 2 comments | Score: 5)

MindJolt Accepts Orbital Bombardment!
Posted by Warstrider on Friday, May 27 @ 13:23:35 CDT (14969 reads)

I am pleased to announce that MindJolt.com has accepted my Orbital Bombardment submission! On September 10th they will be releasing it through all of their media outlets.

I don't have any experiance with MindJolt, but they boast a pretty impressive buisness plan. On the surface they look like any other game portal (Kongregate, New Grounds...) in that they host flash games and give the developer 50% of the ad revenue. However they have a tight submission process that only accepts 1-2 games a day. If you look at how many flash games are actually released on the internet each day that is a very tight submission process. The thing that makes them unique is that they actively market the games instead of just throwing them out there. They limit their releases (hence the Sept 10th date) to make sure games get proper attention, and make full use of social media like Facebook and Twitter to give them a wide audiance.

You have to take allot on faith with MindJolt, when you submit your game you are giving it to them with no strings attached. No domain locks, no ads of your own, and you can't publish it anywhere else. That said the internet forums are full of some pretty amazing stories, and some pretty bad debocles. Allot of faith is required to toss them 6 months of development. Cross your fingers (and leave them crossed, i've got over 3 months to wait)!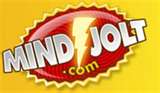 (Read More... | 1 comment | Score: 0)

April Fools '11
Posted by Warstrider on Tuesday, February 15 @ 12:40:27 CST (10409 reads)

JCBanana has posted information about the next April Fools game! Follow the link below and start generating those characters!

Link to game information

(comments? | Score: 0)


Posted by Warstrider on Saturday, February 12 @ 14:47:15 CST (4866 reads)

After much work and help from friends I have finished debugging "Lunar Shield", and decided that it needed a new name. Thanks to everyone for helping me choose "Orbital Bombardment". Below is the new promo picture I am using!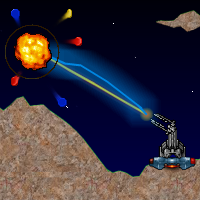 Forums (Members Only)
Link to game

(comments? | Score: 0)

Lunar Shield alpha release!
Posted by Warstrider on Thursday, November 18 @ 21:39:43 CST (4965 reads)

The alpha release of "Lunar Shield" is now complete! For those of you not familiar with alpha releases, it is a version that is still in testing and final development. This means that things change often and ther are bugs. Please post any feedback or bugs in the forums. Enjoy!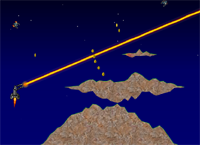 [Links removed, see article above]

(comments? | Score: 0)

Great Sound Library
Posted by Warstrider on Sunday, October 31 @ 11:41:49 CDT (5819 reads)

I found a great sound library that i'm using for my new game and I wanted to share it. The quality is awesome and they even have some free content.

Royalty Free Music and Sound Effects Download the music and sound effects you need for your multimedia project today at Partners In Rhyme.

(comments? | Score: 0)

Garden of War offered! Sorta...
Posted by Warstrider on Monday, March 08 @ 19:14:42 CST (7758 reads)

It is time to both celebrate and cry. I got an offer to buy Garden of War today! Amazing you say, but the down side is it includes an exclusive 7 day posting on the offering vendor's site. The story goes that three months ago when I posted GOW on Kongregate, I neglected to update my game bid on the site. So the person that made the offer didn't know I had already broken the exclusive part of the contract. So in other words... the deal is off before its on. Still, it is a nice feeling!!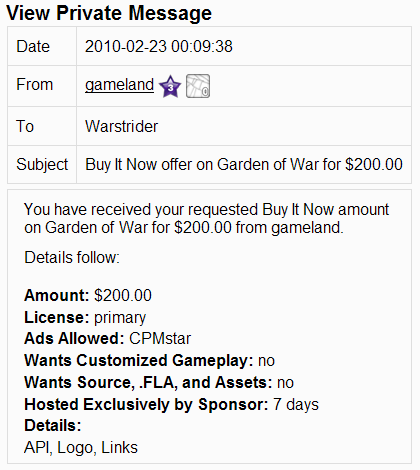 Forums (Members Only)
Link to game

(comments? | Score: 0)

| | | |
| --- | --- | --- |
| | Login | |
Don't have an account yet? You can create one. As a registered user you have some advantages like theme manager, comments configuration and post comments with your name.