Garden of War is Ready!
Date: Saturday, October 17 @ 14:50:52 CDT
Topic: Game News



Garden of War is almost complete, it's time to get feedback from you lot! The game is completely finished and there are no known bugs. So if you find something that isn't working, or if you have a sugestion for improvement please post it in the forums. And many thanks to Jarlaxle and Jillian for all their work!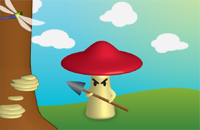 Forums (Members Only)
Link to game